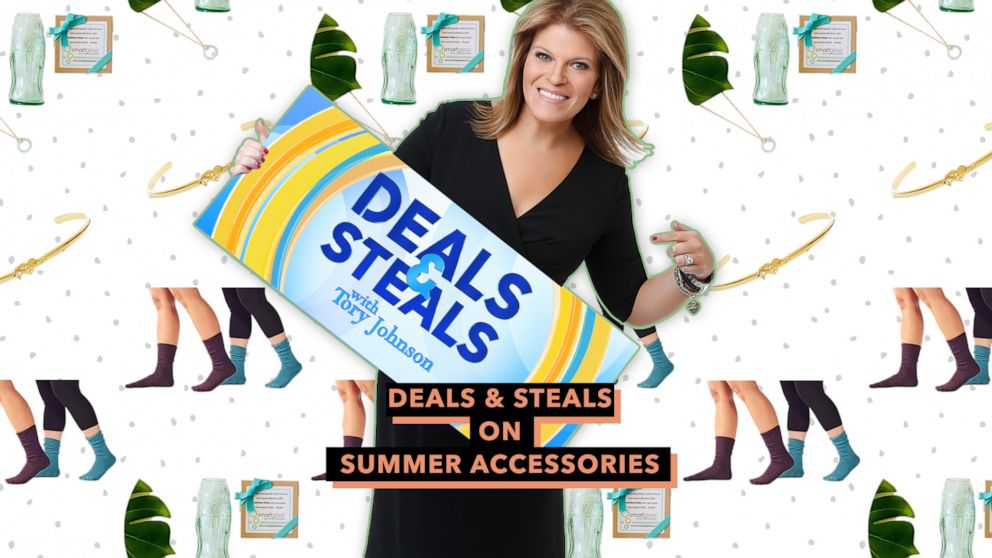 GMA Deals and Steals 6/5
Hey guys, I'm back with the GMA Deals and Steals 6/5! If you want these items make sure you grab them fast, inventory is limited!
100% Helpful
Money Saving
Advices
Blog
'GMA' Deals & Steals on summer accessories
Tory Johnson has exclusive "GMA" Deals and Steals on summer accessories.
Get the most out of all your summer looks! "GMA" viewers can score big savings on great accessories like Amelia Rose constellation layered necklaces, ThinOptics sunglasses, Mali + Lili crossbody bags and more.
The deals start at just $4.13 and are all at least 50% off.
Find all of Tory's Deals and Steals on her special website, GMADeals.com.
Deal details:
1. Use the links provided below on the date(s) listed to receive the savings.
2. All deals are available only while supplies last. No backorders, unless specified by the individual vendor. No rain checks.
3. Deals cannot be combined with other coupons and offers.
4. Contact retailers for any questions about products before ordering online.
5. Shipping rates indicated are valid in the continental United States only.
NEED HELP? CONTACT TORY: For those who need assistance with a deal, please email Tory Johnson directly at help@gmadeals.com. Tory and her team respond to all viewer emails within an hour during business hours.
By clicking on these shopping links, visitors will leave Goodmorningamerica.com. These eCommerce sites are operated under different terms and privacy policies than Goodmorningamerica.com. ABC will receive a commission for purchases made through these links.
Amelia Rose: Constellation Layered Necklace
GMA Deal: $35
•
50% Savings
Original: $70 Valid: 06/05/2021 to 06/05/2021
Elegant and on-trend, these stunning new Constellation Layered Necklaces come packaged on a customized card for each sign. Featuring a 14k gold-filled paperclip chain, these constellation charms are sparkling with CZ accents. The necklace has an adjustable length from 16 inches to18 inches. Shipping is $4.95 or free for orders over $50.
YUMMIE: Bodysuits, Bottoms, Bras & Leggings
GMA Deal: $10 to $29
•
50% Savings
Original: $20 to $58 Valid: 06/05/2021 to 06/05/2021
YUMMIE focuses on comfortable, everyday shapewear designed to hug not squeeze, embracing your curves and shape. The versatile designs, innovative fits and deliciously soft fabrics are perfectly pieced together to meet your every need. This assortment includes bodysuits, bottoms, bras and seamless leggings. Shipping is $7.25 or free for orders over $75.
ThinOptics: Flashcard & Sunglasses
GMA Deal: $20 to $65
•
50% Savings
Original: $40 to $130 Valid: 06/05/2021 to 06/05/2021
Polarized to eliminate glare, ThinOptic's sunglasses provide maximum protection from harmful UV rays. The polarized lenses enhance vision by eliminating excess blue light. The lenses have an anti-reflective back coat to prevent back reflections and the ultra-thin aluminum case with magnetic latch protects your sunglasses from bending and lenses from scratching. The Flashcard includes thin, lightweight readers and the case will easily fit into your wallet, pocket or purse. Shipping is $5 or free for orders over $50.
Maggie's Organics: Organic Cotton Socks
GMA Deal: $4.13 to $11.50
•
49% to 50% Savings
Original: $8.25 to $23 Valid: 06/05/2021 to 06/05/2021
Beginning in 1992, this woman-owned and operated company has developed styles for a difference that you can feel. Made in the USA, Maggie's works directly with family farmers who rotate crops and protect soil. Hand-harvesting and time-honored production methods are what makes Maggie's socks so soft. Choose from Cotton Footie Socks, Cotton Snuggle Socks, Cotton Compression Socks, Cotton Ragg Socks, Cotton Crew Socks and Wool Mountain Hiker Socks. Shipping is $4.99 or free for orders over $30.
Pura Vida Bracelets: Bracelets, Necklaces, Earrings & Rings
GMA Deal: $8 to $19.50
•
59% to 60% Savings
Original: $20 to $48 Valid: 06/05/2021 to 06/05/2021
Founded in Costa Rica, Pura Vida provides sustainable jobs to artisans worldwide and raises awareness for charities with products that give back. Every bracelet purchased helps to provide full time jobs to over 800 artisans worldwide. Pura Vida has donated $3.3M+ to charities through the sale of their products. Choose from a variety of bracelet packs, which are handmade, fully adjustable and waterproof. Wear the bracelets alone or stack them together. Other options include necklaces, rings and necklace/earring sets. Shipping is $3.
Mali + Lili: Crossbody Bags
GMA Deal: $24 + FREE SHIPPING
•
50% Savings
Original: $48 Valid: 06/05/2021 to 06/05/2021
Mali + Lili offers a fresh take on the crossbody bag, all designed with luxe details and multi-functional features to keep you organized and secure. Named an Oprah favorite for holiday, The Josie Triple Zip Compartment Crossbody is now available in 15 fresh colors for summer. It's fully lined with three separate compartments and gold tone hardware. The adjustable strap allows you to wear it as a shoulder bag or crossbody. Free shipping!
Aid Through Trade: Bracelet Trio
GMA Deal: $19
•
50% Savings
Original: $38 Valid: 06/05/2021 to 06/13/2021
Aid Through Trade is an authentic fair trade jewelry company specializing in handcrafted bracelets. These gorgeous roll-on beaded bracelet trios are constructed bead by bead by women artisans in Nepal. By providing these sustainable jobs, Aid Through Trade artisans are able to do things such as put nutritious food on the table, clothe and educate their children and provide a safe home for their family. Make a difference with beautiful bracelets.
Smart Glass: Recycled Jewelry
GMA Deal: $29.40 to $39.20
•
30% Savings
Original: $42 to $56 Valid: 06/05/2021 to 06/13/2021
Drink it. Wear it. Smart Glass Recycled Jewelry is handcrafted in artist Kathleen Plate's Atlanta studio from post-consumer beverage bottles. The coolest part is the beautiful colors are original to the bottles. Aqua is from a gin bottle, antique clear is from a soda bottle and pine is from a red wine bottle. Choose eye-catching necklaces and rings.
Valencia Key: Inspirational Jewelry
GMA Deal: $40 to $60 + FREE SHIPPING
•
33% to 40% Savings
Original: $60 to $100 Valid: 06/05/2021 to 06/13/2021
Valencia Key Jewelry is a wearable reminder to unlock your strength and bravery. Lia Key created the company with a deep hope that people who wear her jewelry will be flooded with feelings of light, joy, possibility, love and empowerment. Every piece is designed to be comfortable and easy to wear anytime, whether you're dressed up or dressed down. All pieces are hypoallergenic, super lightweight, durable and tarnish-free. This assortment features necklaces, earrings and bracelets.
Sterling Forever: Jewelry
GMA Deal: $24 to $28
•
74% to 76% Savings
Original: $104 to $108 Valid: 05/05/2021 to 06/07/2021
Whether you love bold looks or you're after subtle elegance, Sterling Forever has you covered. Bring the best of high-end fashion home, at a price that's just as alluring as the beautiful jewelry. This assortment features a three-piece bundle of classic hoops, as well as trendy carabiner style two-piece sets with CZ detailing. All sets are offered in 14K gold or rhodium plated brass.
I am not affiliated with Tory Johnson, GMA or any of the other companies listed above. I do not receive any endorsements or compensations for doing these posts. I just simply love a good deal and enjoy passing it along to you guys! For more about my Disclaimer, read here: Disclaimer Policy.
Want lifetime access to my resource library?
Subscribe to get the latest deals, DIY Projects, Recipes and more! Bonus, when you subscribe you will have FREE access to my resource library filled with over 50 printables as my gift to you!