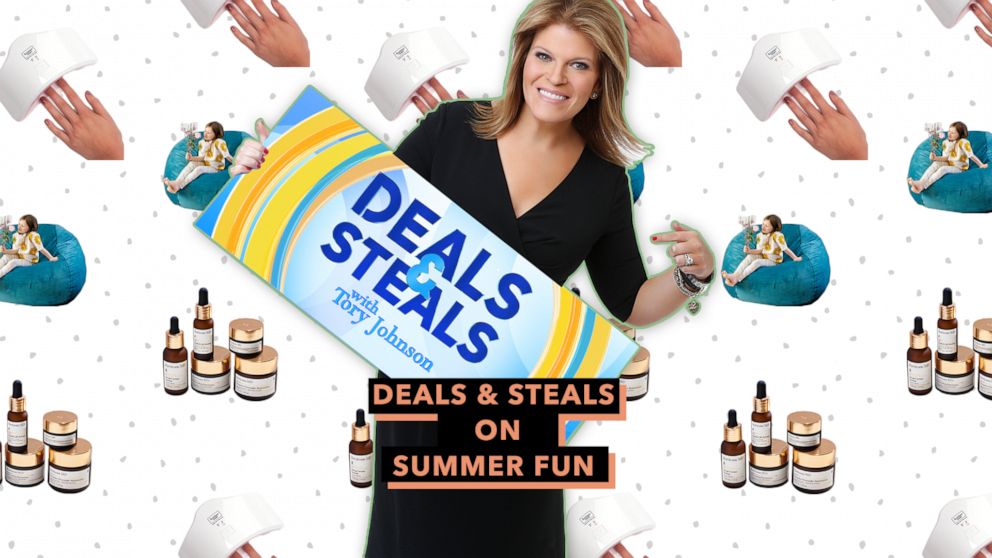 GMA Deals and Steals 6/3
Hey guys, I'm back with the GMA Deals and Steals 6/3! If you want these items make sure you get it fast, sales are only for 24 hours!
100% Helpful
Money Saving
Advices
Blog
'GMA' Deals & Steals on summer fun
Tory Johnson has exclusive "GMA" Deals and Steals on more summer fun.
Gear up for the most fun summer of your life. "GMA" viewers can score big savings on great products like CordaRoy's convertible chairs, SCOUT bags and coolers, FLÎKR Fire personal fireplace and more.
The deals start at just $7.50 and are all at least 50% off.
Find all of Tory's Deals and Steals on her special website, GMADeals.com.
Deal details:
1. Use the links provided below on the date(s) listed to receive the savings.
2. All deals are available only while supplies last. No backorders, unless specified by the individual vendor. No rainchecks.
3. Deals cannot be combined with other coupons and offers.
4. Contact retailers for any questions about products before ordering online.
5. Shipping rates indicated are valid in the continental United States only.
NEED HELP? CONTACT TORY: For those who need assistance with a deal, please email Tory Johnson directly at help@gmadeals.com. Tory and her team respond to all viewer emails within an hour during business hours.
By clicking on these shopping links, visitors will leave Goodmorningamerica.com. These eCommerce sites are operated under different terms and privacy policies than Goodmorningamerica.com. ABC will receive a commission for purchases made through these links.
CordaRoy's: Footstool & Convertible Chairs
GMA Deal: $60 to $200 + FREE SHIPPING
•
50% Savings
Original: $120 to $400 Valid: 06/03/2021 to 06/03/2021
CordaRoy's are the perfect place to chill, sleep, and everything in between. As seen on ABC's Shark Tank, CordaRoy's is a high-quality, foam-filled chair that converts to a standard size bed. This plush collection is soft to the touch and available in Full, Queen or King. The plush footstools turn your chair into a recliner. Free shipping!
Sand Cloud: Quick-Drying Towels
GMA Deal: $20
•
58% Savings
Original: $48 Valid: 06/03/2021 to 06/03/2021
As seen on ABC's Shark Tank, Sand Cloud was designed to reinvent the outdoor towel. Lightweight and compact, this is easy to carry and store. Made from Turkish organic cotton for a softer feel, Sand Cloud is quick-drying and easy to shake sand off with its sand-resistant design. These towels get softer and more absorbent with every wash. Choose from six styles. Shipping is $5.99 or free for orders over $50.
Limitless Innovations: TikiTunes & Ground Stakes
GMA Deal: $7.50 to $20
•
50% Savings
Original: $15 to $40 Valid: 06/03/2021 to 06/03/2021
TikiTunes is a portable Bluetooth speaker that offers six hours of continuous playtime from any wireless device with its rechargeable battery. Connect up to two speakers to sync the sound for a maximum distance of 30 feet for true stereo sound. The warm LED ambient flickering light provides the perfect ambiance for evenings outdoors. Add the adjustable ground stake for the full tiki experience. Limit six products per order. Shipping is $4.95.
SCOUT Bags: Assorted Bags & Coolers
GMA Deal: $8.75 to $29.75
•
50% Savings
Original: $17.50 to $59.50 Valid: 06/03/2021 to 06/03/2021
Stylish and functional, SCOUT Bags are versatile and built for real life. They are known for their beach bags, pool bags, coolers and accessories that resist surf, sand, splashes and spills. Durable and lightweight, these feature easy-to-clean fabrics, water-resistant coating and bright patterns. There are over 20 options to choose from including tote bags, coolers, crossbody bags and wristlets. Shipping is $1 or free for orders over $40.
FLÎKR Fire: Personal Fireplace
GMA Deal: $47.50
•
50% Savings
Original: $95 Valid: 06/03/2021 to 06/03/2021
Made in America, FLÎKR Fire is the Original Isopropyl Rubbing Alcohol Personal Fireplace. Made from a proprietary cement and cradled in a custom milled, quartz-like base, by adding just five ounces of isopropyl rubbing alcohol, you will have roughly 50 minutes of burn time. FLÎKR Fire emits a cozy warmth. Limit three per order. Shipping is $4.99 or free with two or more.
The French Farm: Set of 6 Steak Knives in a Wooden Block
GMA Deal: $49 to $55
•
50% Savings
Original: $98 to $110 Valid: 06/03/2021 to 06/03/2021
Handmade in France, the Laguiole knife has been used in the south of France for over 200 years. Each knife from The French Farm has a gauge of 1.2mm, is put through 25 different production stages before it is stamped, polished and packaged. Rust-resistant and dishwasher safe, each set includes six knives and wooden block for storage. Limit three sets per order. Shipping is $8.99.
GO SMILE: Teeth Whitening Treatments and Tools
GMA Deal: $29.50 to $48
•
50% Savings
Original: $59 to $96 Valid: 06/03/2021 to 06/06/2021
Achieve a healthier, cleaner, whiter smile with no sensitivity. Founded by a dentist, GO SMILE's line of teeth whitening is cruelty-free, paraben-free and vegan. This assortment features the On The Go Sonic Blue Teeth Whitening Kit, a portable and powerful whitening system with an antibacterial sonic toothbrush and whitening gel to be used with your toothpaste together on the brush to clean and whiten at the same time. Also offering whitening serum single-use applicators and a whitening kit.
TanTowel: Self-Tanning Products
GMA Deal: $19.60 to $31.50
•
30% Savings
Original: $28 to $45 Valid: 06/03/2021 to 06/06/2021
The perfect sunless tan for everyBODY. No sun required. TanTowel offers a full line of products designed to produce a unique and natural-looking sunless tan and are the creators of the original self tanning towelette. Choose from face, half and full body self-tan towelettes, instant glow lotion and bronzing mousse.
ROSEN Skincare: Acne-Prone Skincare
GMA Deal: $7.20 to $10
•
40% to 50% Savings
Original: $12 to $20 Valid: 06/03/2021 to 06/06/2021
The next generation of mass acne care with innovative formulas, education and messaging. ROSEN Skincare is dedicated to creating new and exciting products that fight against acne and make your skin more radiant and clear. This assortment features a range of products to deliver targeted results, including the Bright Citrus Serum and Break Out spot treatment.
REN Clean Skincare: Clean and Effective Skincare
GMA Deal: $29 to $50
•
23% to 30% Savings
Original: $38 to $72 Valid: 06/03/2021 to 06/13/2021
Treat your skin with naturally-derived clean, proven solutions. REN Clean Skincare creates products that work in harmony with your skin to strengthen its barrier and offer optimum protection to reveal your healthiest complexion. This assortment features their bestselling Glow Tonic for gentle exfoliation, as well as a bundle designed to enhance your skin's radiance and a kit of Evercalm products.
Perricone MD: Anti-Aging Skincare
GMA Deal: $49 to $89 + FREE SHIPPING
•
50% Savings
Original: $98 to $179 Valid: 06/03/2021 to 06/04/2021
Unlock the secrets to healthy aging with Perricone MD's revolutionary skin care products formulated with Dr. Nicholas Perricone's award-winning, patented sciences designed to deliver dramatic, clinically tested results. The Essential FX line is a collection of highly potent yet luxurious solutions to visibly smooth the most stubborn, deep-set lines, wrinkles, creases and uneven texture around the mouth, eyes, lips and forehead. A Vitamin F blend of flaxseed, chia seed and macadamia seed oils replenishes skin's moisture barrier and protects it from environmental aggressors. Free Shipping!
butter LONDON: At-Home Gel Manicure Kits
GMA Deal: $7.50 to $26.50
•
37% to 39% Savings
Original: $12 to $44 Valid: 06/03/2021 to 06/06/2021
Good-for-you nail products. butter LONDON believes not all ingredients are created equally, so their products are always formulated with safe nail and skin pampering ingredients. The assortment offers PureCure Peel-Off Gel kits, a healthier alternative to harsh gel polish so you can enjoy a nail salon look with a 12-free formula and brilliant shine for up to 10 days.
I am not affiliated with Tory Johnson, GMA or any of the other companies listed above. I do not receive any endorsements or compensations for doing these posts. I just simply love a good deal and enjoy passing it along to you guys! For more about my Disclaimer, read here: Disclaimer Policy.
Want lifetime access to my resource library?
Subscribe to get the latest deals, DIY Projects, Recipes and more! Bonus, when you subscribe you will have FREE access to my resource library filled with over 50 printables as my gift to you!