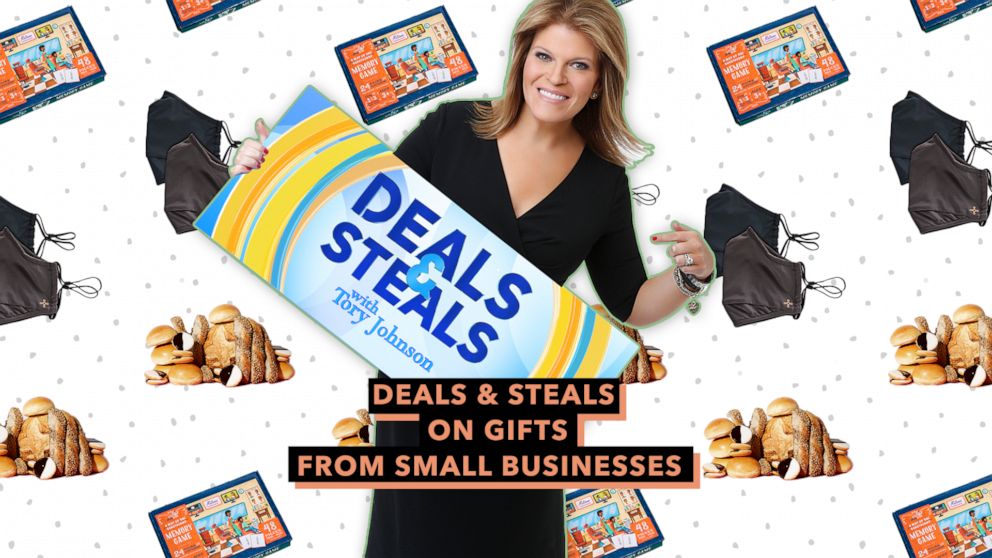 GMA Deals and Steals 11/6
Hey guys, I'm back with the GMA Deals and Steals 11/6! If you want these items make sure you get it fast, sales are only for 24 hours!
'GMA' Deals and Steals on gifts from small businesses
Tory Johnson has exclusive "GMA" Deals and Steals on must-have gifts from small businesses.
Score big savings on robes and sleep sets, bread baskets, puzzles and games for kids and more.
The deals start at just $9.25 and are all at least 50% off.
Find all of Tory's "Deals and Steals" on her special website, GMADeals.com.
Deal Details:
1. Use the links provided below on the date(s) listed to receive the savings.
2. All deals are available only while supplies last. No backorders, unless specified by the individual vendor. No rainchecks.
3. Deals cannot be combined with other coupons and offers.
4. Contact retailers for any questions about products before ordering online.
5. Shipping rates indicated are valid in the continental United States only.
NEED HELP? CONTACT TORY: For those who need assistance with a deal, please email Tory Johnson directly at help@gmadeals.com. Tory and her team respond to all viewer emails within an hour during business hours.
By clicking on these shopping links, visitors will leave Goodmorningamerica.com. These eCommerce sites are operated under different terms and privacy policies than Goodmorningamerica.com. ABC will receive a commission for purchases made through these links.
Printfresh: Robes & Sleep Sets
GMA Deal: $56 to $66
•
50% Savings
Original: $112 to $132
Lounge in comfort and style with Printfresh. This woman-owned company designs all of its patterns that are featured on the 100% cotton poplin fabric, which is machine washable and will get softer with every wash. These whimsical designs are available in short sleep sets, long sleep sets or robes. Sizes range from XXS-4X, depending on the style you choose. Shipping is $5.99.
Bread Basket: Assorted Bread Baskets
GMA Deal: $22.50
•
50% Savings
Original: $45
Bread Basket has a passion for bread and the relationships they have built with New York City's finest bakeries by delivering their breads to the most discerning chefs and best grocers for over 30 years. With the uncertainty of current times, Bread Basket felt compelled to help these incredible artisans bring their delicious products to you and find new ways to stay in business altogether. There are four fresh bread baskets to choose from including New York (sourdough, everything seed twists, brioche buns, mini black & white cookies); Holiday (stencil bread, pumpkin cranberry loaf cake, brioche cheddar rolls, chocolate chip almond biscotti); Party (country bread, parker house rolls, funfetti cake, tortillas 7″ flour); and Comfort (pizza bianca, cranberry pecan rolls, brioche dinner rolls with black and white seeds, mini belgian waffles). Overnight shipping ranges from $9 to $19, depending on location.
Dave's Sweet Tooth: 6-Pack of Toffee
GMA Deal: $20
•
55% Savings
Original: $45
Satisfy any sweet tooth. Based on the recipe of a retired firefighter, each batch is handmade and cooked to perfection just outside of Detroit. Light and buttery, this almond toffee doesn't stick to your teeth. There are two bundles to choose from: Fall or Holiday. Fall includes Caramel Apple Crunch x 2, Pumpkin Spice x 2, Dark Chocolate and Milk Chocolate. Holiday includes Gingerbread x 2, Dark Chocolate Peppermint x 2, Milk Chocolate and Dark Chocolate. Every bag is ready for easy gifting … if you don't eat if first! Shipping is $8 or free with the purchase of two or more 6-packs.
Hyggelight: The Growing Candle
GMA Deal: $15 to $16
•
50% Savings
Original: $30 to $32
The Growing Candle solves the problem of what to do with your candle container after the wax has melted. Burn your Growing Candle, plant the seed-embedded label, and grow some flowers. Included with every Growing Candle is a matching floral print with planting directions on the reverse side. Both the watercolor artwork and the instructions are created by local artists in Ohio. Five options. Limit four per order. Shipping is $5.99.
Little Likes Kids: Puzzle & Game Packs
GMA Deal: $18 to $23
•
50% Savings
Original: $36 to $46
Learn through play with Little Likes Kids. This collection of puzzles and games feature beautifully-illustrated original artwork with decidedly diverse imagery that accurately portrays racial and ethnic diversity in families. Each Puzzle & Game Pack is available in a 2-pack or 3-pack. The 2-pack includes a puzzle and children's advent sticker calendar. The 3-pack includes a puzzle, memory game and playing cards. Suitable for ages 3 and up. Shipping is $7.49.
TOMMIE COPPER: Face Masks & Gaiters
GMA Deal: $9.25 to $9.75
•
50% Savings
Original: $18.50 to $19.50
TOMMIE COPPER's face masks feature 4D stretch fabric known for its comfort, moisture-wicking and patented Copper Znergy technology that kills odor-causing microbes on the fabric. The adjustable straps and nose piece are designed for optimal comfort. The kids masks are made with 4D Lycra stretch Copper Znergy fabric that's flexible, breathable, irritation-free with soft, stretchy ear loops and a flexible nose bridge. The gaiters feature a built-in two-layer face mask that is quick and easy to lift into place. Shipping is $4.95.
NEED HELP? CONTACT TORY: For those who need assistance with a deal, please email Tory Johnson directly at help@gmadeals.com. Tory and her team respond to all viewer emails within an hour during business hours.
I am not affiliated with Tory Johnson, GMA or any of the other companies listed above. I do not receive any endorsements or compensations for doing these posts. I just simply love a good deal and enjoy passing it along to you guys! For more about my Disclaimer, read here: Disclaimer Policy.
Want lifetime access to my resource library?
Subscribe to get the latest deals, DIY Projects, Recipes and more! Bonus, when you subscribe you will have FREE access to my resource library filled with over 50 printables as my gift to you!