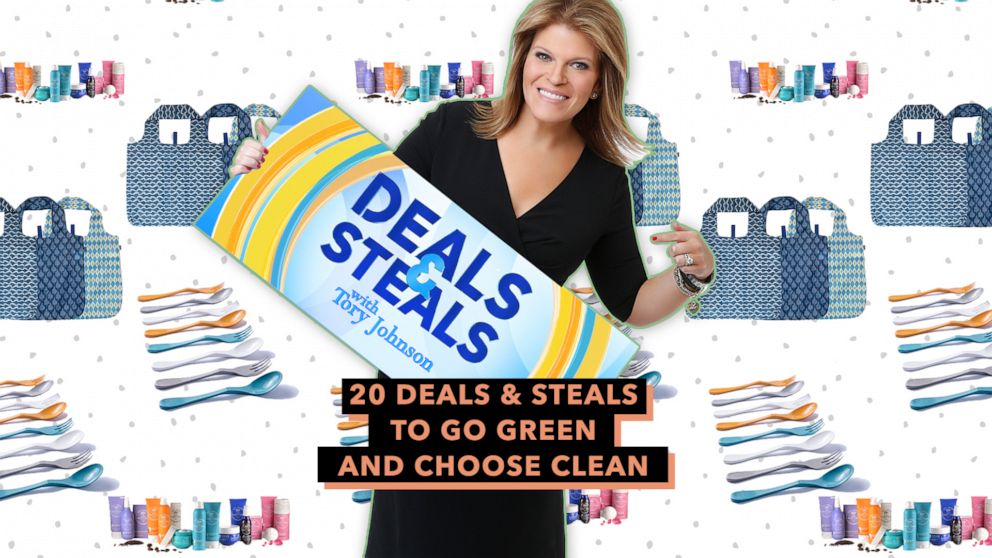 GMA Deals and Steals 9/24
Hey guys, I'm back with the GMA Deals and Steals 9/24! If you guys want these items, make sure you get it fast, sales are only for 24 hours!
'Strahan, Sara and Keke' Deals & Steals to go green and choose clean
Go green with these eco-friendly "Deals and Steals" from Tory Johnson.
These deals start at $6 and are all at least 50% off!
Find all of Tory's "Deals and Steals" on her special deals website, GMADeals.com.
Deal Details:
1. Use the links provided below on the date(s) listed to receive the savings.
2. All deals are available only while supplies last. No back orders, unless specified by the individual vendor. No rain checks.
3. Deals cannot be combined with other coupons and offers.
4. Contact retailers for any questions about products before ordering online.
5. Shipping rates indicated are valid in the continental United States only.
NEED HELP? CONTACT TORY: For those who need assistance with a deal, please email Tory Johnson directly at help@gmadeals.com. Tory and her team respond to all viewer emails within an hour during business hours.
By visiting these website addresses, you will leave Goodmorningamerica.com and be directed to Shopify-powered web stores. Any information you share with the retailer will be governed by its website's terms and conditions and privacy policies. ABC will receive a small share of revenue from purchases through these links.
Threads 4 Thought: Activewear
Original: $44 to $78
GMA Deal: $22 to $39
50%-54% savings
Valid: 9/24/19 to 9/25/19
gma-threads4thought.com
Comfortable and stylish, Threads 4 Thought activewear is ethically manufactured in factories with the highest level workplace certifications. Reclaimed, recycled and reused, these pieces are made with the sustainable materials including organic cotton. The soft, moisture wicking and breathable fabric keeps you cool. Choose from an assortment of leggings, sports bras, joggers and long sleeve tops. Sizes range from XS-XXL. Shipping is $5 or free with the purchase of two or more units.

NIGHT: Clean Silk Beauty Pillowcase
Original: $110 to $120
GMA Deal: $40 to $50 + FREE SHIPPING
58%-63% savings
Valid: 9/24/19 to 9/25/19
gma-night.com
Free from unnecessary chemicals and dyes, the NIGHT Clean Silk pillowcase is designed to promote better skin and hair while helping protect the planet. Made from 100% all-natural untreated silk fibers, this pillowcase harnesses the power of nature with no harmful chemical processing. The pure silk fibers are naturally hypoallergenic. The high quality mulberry silk worms provide the smoothest surface for your hair and skin to glide across, helping to eliminate sleep lines and bedhead. Standard/Queen and King pillowcases are available. Free shipping!

rockflowerpaper: Reusable Zip Pouches & Blu Bags
Original: $12 to $34.50
GMA Deal: $6 to $17.25
50% savings
Valid: 9/24/19 to 9/25/19
gma-rockflowerpaper.com
Inspired by colors, textures and art around the globe, rockflowerpaper's reusable bags help eliminate the use of plastic bags. The Zip Pouches have 3 pockets to easily store all of your necessities and stay organized while traveling. Use for tech accessories, travel documents, makeup and more. The 3-packs of Blu Bags hold up to 50lbs and are machine washable. This all-purpose bag can be rolled up and secured with its attached band or stored in its own matching zip pouch. Shipping is $3 or free for orders over $50.

Nano Towels: Nano Towels & Sponges
Original: $25 to $44
GMA Deal: $12.50 to $22
50% savings
Valid: 9/24/19 to 9/25/19
gma-lifenatural.com
Clean virtually any surface using only water – no chemicals needed. Nano Towels use Nanolan fiber to trap liquid, dust, dirt and grime. Use them for dusting, washing countertops, floors, bathrooms, glass and stainless steel. When it becomes dirty, simply wash it prior to your next use. Limit one unit per product per order. Shipping is $2.99.

Knork Flatware: Utensils and Composter
Original: $16 to $75
GMA Deal: $8 to $37
50%-56% savings
Valid: 9/24/19 to 9/25/19
gma-knork.com
Flatware is reinvented. Knork's modern flatware has an ergonomic design and cuts through most foods easily with one hand. Knork recently released their ECO line, which features fully compostable and reusable plant-based utensils that can withstand use in the microwave and dishwasher. The Composter is also available, which allows you to convert your own organic waste into compost to enrich the soil in your backward or garden. Shipping is $4.99. Limit four units per order.

TREETS: Skin & Body Care
Original: $12 to $24
GMA Deal: $6 to $12
50% savings
Valid: 9/24/19 to 9/25/19
gma-treets.com
TREETS' mission is to search the world for knowledge and traditions used for their strong healing power that was given to them by nature. The Nourishing Spirits collection is based on butters extracted from nuts and seeds from Africa. Energising Secrets is based on the natural ingredients from the Tropics. Healing in Harmony is based on herbs and oils from the Alps. Relaxing Chakra's is inspired by massage, bathing and exfoliating from Asia. Select from over 30 options which includes Epsom Bath Salt, Volcanic Mud Scrub, Foaming Shower Gel, Bath Tea and Body Butter. Shipping is $3.25.

NEED HELP? CONTACT TORY: Anyone who needs assistance with a deal can email Tory Johnson directly: help@gmadeals.com. Tory and her team respond to all viewer emails within an hour during business hours.
I am not affiliated with Tory Johnson, GMA or any of the other companies listed above. I do not receive any endorsements or compensations for doing these posts. I just simply love a good deal and enjoy passing it along to you guys! For more about my Disclaimer, read here: Disclaimer Policy.
Want lifetime access to my resource library?
Subscribe to get the latest deals, DIY Projects, Recipes and more! Bonus, when you subscribe you will have FREE access to my resource library filled with over 50 printables as my gift to you!