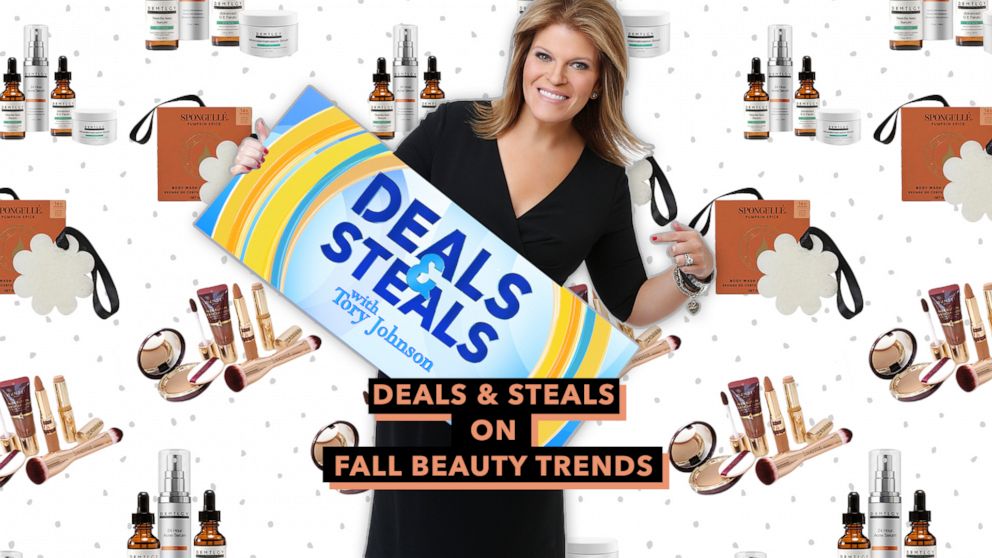 GMA Deals and Steals 9/17
'Strahan, Sara and Keke' Deals & Steals on fall beauty trends
Tory Johnson is back on "Strahan, Sara and Keke" Tuesday with exclusive Deals & Steals on must-have beauty products for fall.
Score big savings on everything from cosmetics and hair care products to face masks, body wash-infused buffers and more.
The deals start at just $3.50 and are all at least 50% off.
Find all of Tory's "Deals and Steals" on her special deals website, GMADeals.com.
Deal Details:
1. Use the links provided below on the date(s) listed to receive the savings.
2. All deals are available only while supplies last. No back orders, unless specified by the individual vendor. No rain checks.
3. Deals cannot be combined with other coupons and offers.
4. Contact retailers for any questions about products before ordering online.
5. Shipping rates indicated are valid in the continental United States only.
NEED HELP? CONTACT TORY: For those who need assistance with a deal, please email Tory Johnson directly: help@gmadeals.com. Tory and her team respond to all viewer emails within an hour during business hours.
By visiting these website addresses, you will leave Goodmorningamerica.com and be directed to Shopify-powered web stores. Any information you share with the retailer will be governed by its website's terms and conditions and privacy policies. ABC will receive a small share of revenue from purchases through these links.
It's a 10 Haircare: Assorted Haircare
Original: $18 to $43
GMA Deal: $9 to $21.50
50% savings
Valid: 9/17/19 to 9/18/19
gma-itsa10haircare.com
Created by a hairstylist and salon owner, It's a 10 helps you achieve instant results for all hair styles and colors. Over 15 options of haircare to target weak or damaged, thin or flat hair, including an option for men who need an all-in-one refresh. It's a 10's cult-classic is also included, the Leave-In Conditioner Spray smooths hair, eliminates frizz, restores shine and enhances the hair's natural body. Shipping is $3.50 or free for orders over $20.

SPONGELLE: Body-Wash Infused Buffers
Original: $16 to $40
GMA Deal: $8 to $20
50% savings
Valid: 9/17/19 to 9/18/19
gma-spongelle.com
SPONGELLE is the all-in-one beauty treatment. These body wash infused buffers add a touch of luxury for the bath or shower – simply wet the buffer and squeeze to release the lather. There are over 40 options to choose from including classic buffers, men's buffers, sponge animals, pedi buffers and more. Shipping is $6.95 or free for orders over $50.

AmazingCosmetics: Primers, Concealers, Powders
Original: $23 to $43
GMA Deal: $11.50 to $21 + FREE SHIPPING
50%-55% savings
Valid: 9/17/19 to 9/18/19
gma-amazingcosmetics.com
Effective and complexion perfecting, AmazingCosmetics nourishes as it perfects, making your flawless skin feel as good as it looks. Fueled by power-packed ingredients, these cosmetics are designed for every day and all day wear. Over 10 options including the Pro's Magic Eraser Kit, an ultra-concentrated, waterproof concealer that gives you breathable, long wear coverage. The Anti-Aging Face Primer fills in fine lines and wrinkles as it nourishes and protects. The Perfection Stick eliminates imperfections by concealing, highlighting and contouring. Free shipping!

Frownies: Masks & Patches
Original: $7 to $22
GMA Deal: $3.50 to $11
50% savings
Valid: 9/17/19 to 9/18/19
gma-frownies.com
Soften and smooth the appearance of deep wrinkles and fine lines on the face with Frownies. These Facial Patches and Gentle Lifts smooth out creases on face, forehead, between and the corners of eyes and around mouth. Immediate results can be seen with one application but lasting results come with continual use. The stiff paper patch allows skin to breath as it tones and tightens underneath. There are seven options from full face mask to neck mask. Shipping is $5 or free for orders over $50.

Wander Beauty: Cosmetics
Original: $21 to $60
GMA Deal: $8 to $30
50%-63% savings
Valid: 9/17/19 to 9/18/19
gma-wanderbeauty.com
Streamline your beauty routine with Wander. This line of multitaskers does more and takes up less time and clutter. Cruelty-free and enriched with clean, skin-loving ingredients, these items will keep you looking gorgeous on-the-go. Choose from a variety of options including Dualist Matte and Illuminating Concealer, Wanderlust Powder Foundation, Nude Illusion Liquid Foundation and Lipsetter Dual Lipstick and Liner. Shipping is $4 or free for orders over $40.

DRMTLGY: Skincare
Original: $20 to $69
GMA Deal: $10 to $21 + FREE SHIPPING
50%-69% savings
Valid: 9/17/19 to 9/18/19
gma-drmtlgy.com
When it comes to creating skincare, DRMTLGY's philosophy is based on two rules: it can't be bad for you and it has to work. This line of skincare is created with clean, potent, dermatologist-tested formulas. Four options: Needle-less Serum helps reverse the signs of aging by stimulating collagen and elastin production and the Microdermabrasion Scrub uses fine pumice granules to gently exfoliate dead skin cells, providing needed cellular turnover without damaging skin. Free shipping!

NEED HELP? CONTACT TORY: Anyone who needs assistance with a deal can email Tory Johnson directly: help@gmadeals.com. Tory and her team respond to all viewer emails within an hour during business hours.
I am not affiliated with Tory Johnson, GMA or any of the other companies listed above. I do not receive any endorsements or compensations for doing these posts. I just simply love a good deal and enjoy passing it along to you guys! For more about my Disclaimer, read here: Disclaimer Policy.
Want lifetime access to my resource library?
Subscribe to get the latest deals, DIY Projects, Recipes and more! Bonus, when you subscribe you will have FREE access to my resource library filled with over 50 printables as my gift to you!